2021 Holiday Guide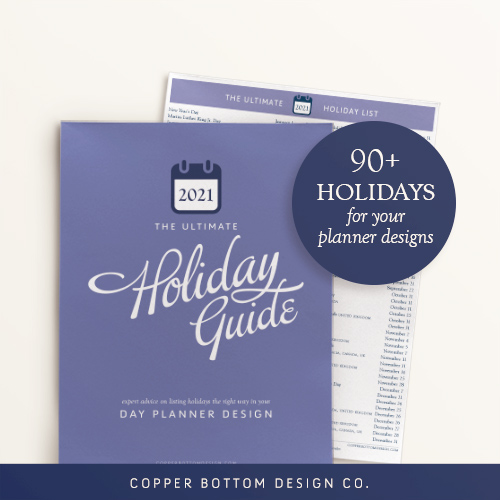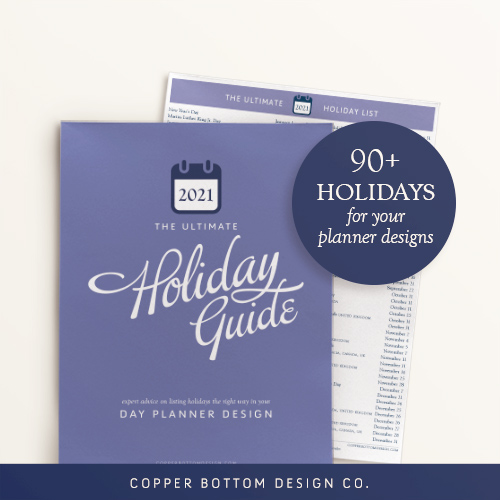 2021 Holiday Guide
This guide is filled with expert advice on listing holidays the right way in your day planner design, saving you the cost of paying for extra hours of proofreading time! Includes over 90 holidays for 2021—all fact-checked and proofread by our team of experts.
STOP GOOGLING AND SECOND GUESSING THE INTERNET
We went to the ends of the earth* to research over 90 major holidays and observances celebrated around the globe in order to save you hours of googling. Simply copy the dates into your own planner designs and launch your product with confidence.
Inside this 17-page PDF you'll also find in-depth information about curating your own holiday list. You'll learn tips to broaden your market for higher sales, practical information on being consistent, common misspellings and grammar mistakes, and multiple holiday names are discussed at length.
The result is the most comprehensive holiday guide out there. It's been fact checked and proofread by our team of experts, saving you from endless hours of googling dates and second guessing the internet.
*Ok, maybe we didn't actually GO to the ends of the earth, but we did call, Facetime, and write to our friends far and wide (Australia, Saudi Arabia, China, the UK, and Canada) to make sure our dates were listed correctly. Saving you the worry of publishing embarrassing errors in your planner.
DETAILS
The Holiday Guide is an instant PDF download.
Nothing will be shipped to you.
The PDF is sized to print in high resolution on standard 8.5x11 paper.
Since this listing is delivered via instant download, no refund can be issued.